Here there are 7 movies to watch if you are a victim of cold and flu season which claims a countless number of 'victims' every year. If, at this point, you have skipped the sniffles, cough, fever and a long etcetera of symptoms that make us feel miserable for a few days, consider yourself lucky. You surely know a bunch of relatives, friends or colleagues who are dealing or have already struggled with mucus 'overload'… and it's not a pleasant experience!
Such 'sick days' can be terrible, we all know this, but there are ways to make them a little less awful. Watching a movie under the covers is a classic plan that hardly ever fails, especially nowadays, since there are so many options provided by tv on demand and internet. But, still, choosing the right movie can really make the difference when we are all surrounded by tissues, hit by a cold, home alone and bored.
Are you under the weather and don't know what to watch? Here are some recommendations that will make you forget about your sickness for a little while or, at least, feel a bit better about your current situation!
1- Office Space (1999)
Filmed by Mike Judge, this hilarious movie from the late 90's will make you laugh out loud and think twice about your condition. You are sick, but at least you are at home, in bed, and far away from your workplace. After seeing what the main character, played by Ron Livingston, and some of his colleagues have to put up with in this movie, you might celebrate that you are not at the office. If somehow you love your job, this movie will make you appreciate it even more, so this is a win-win option!
2- Groundhog day (1993)
You have probably seen this underrated masterpiece more than once, but here's a good opportunity to enjoy it again. Filmed in 1992, Groundhog Day remains as one of the brightest comedies of all times due to an ingenious premise (Bill Murray's character lives the same day over and over, which redefines him as an individual and also his way of facing life) and great performances. Not only will it make you crack a smile, but It may help you value every single moment (even when you are sick!). But, more than that, it can fill you with energy to start planning what you want to do once you are recovered.
3- Inside Llewyn Davis (2013)
The Coen brothers paid their particular homage to the American folk music in this movie, set in the early 60's. Inside Llewyn Davis follows the life of an unfortunate musician who attempts to make a name for himself on a scene full of talent and competition. It's not a movie that will exactly cheer you up, but it has excellent soundtracks that are easy on the ear and can help you relax or even soothe you to sleep. Also, if you feel miserable, you can relate to the main character, whose bad luck is hard to match.
4- Love Actually (2003)
And we go from a movie that can 'sedate' you to another that does the contrary: it restores the 'faith' in humanity and sends you positive vibes. Love Actually has become one of the most influential British movies of this century, due to its perfect mix of melodramatic situations and good interconnected stories. Eight different London couples, played by great actors such as Alan Rickman, Emma Thompson or Liam Neeson, deal with their personal issues in the month prior to Christmas and with love as a connecting link. Despite its cheesiness, this movie can definitely put you in a good mood and remind you that you may be sick, but you are not alone!
5- Meet the parents (2000)
If you are only up for a no-brainer movie that makes you laugh and have a good time, try watching Meet the parents. It's hard not to engage with Greg Focker's nightmare about meeting his future parents-in-law. Played by Ben Stiller in his prime as an actor, the main character takes part in a series of unfortunate events. Or it would be more accurate to say that he jinxes every situation… all of it, under the watchful eye of his girlfriend's intimidating dad, played by a fantastic Robert De Niro. After watching Meet the parents, you may end up thinking that you are not in such a bad place!
6- Forrest Gump (1994)
Even if you've seen it ten times, there's no excuse not to enter into Forrest Gump's universe once again. Starring Tom Hanks, whose brilliant performance granted him his second Oscar award in a row, Forrest Gump tells the story of a slow-witted, yet good-hearted and endearing man with whom we get to review the history of America during the second half of the twentieth century. This is a movie that can teach us many lessons, one of which has to do with our attitude towards life: no matter how many difficulties we come across, we have to remain optimistic. Yes, even when we are ill!
7- Avatar (2009)
Released in 2009, Avatar is such a titanic project that brought with it a technical breakthrough: it was the first movie to entirely embrace 3D technology. Although it is enjoyed the most on the big screen, Avatar still does the trick when watched at home. It takes you to another world, which could make you ignore your symptoms for a while. And it's 'quite' a while, as the movie's length is 161 minutes. That way, the experience will take up a considerable amount of your 'miserable' day.
It goes without saying that this is one list out of many possible ones. You may already have your own preferences, but we encourage you to give some of these movies a chance while being sick. And if you are willing to contribute to this post, don't hesitate to tell us your recommendations!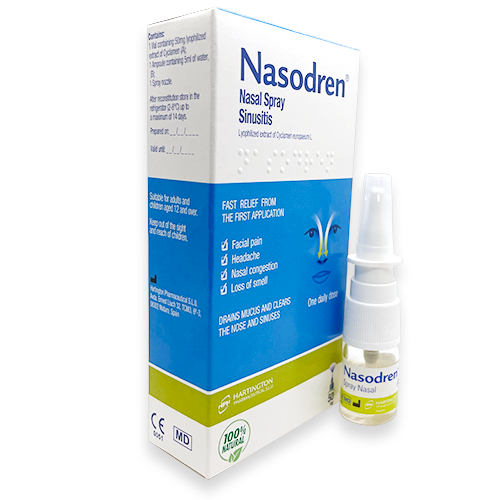 Nasodren is 100% natural, with no rebound efect
Effectively reduces nasal congestion
Buy now HERE